Ron Saetermoe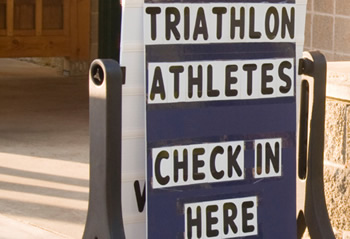 Anyone that knows me knows I'm a planner. I'm usually very well organized and nearly early for any event. I get it from my mom. She starts packing a month before her vacations!
Even if you're not much of a planner I suggest you start planning for your races early. Here are some tips:
Plan Your Year Early
It's difficult to start planning your races too early. Check out the potential races you're considering and ask the other athletes what they recommend. Determine how many races you want to do and space them out based on your schedule. For some that will mean just one race, and others will do 20 in one season (nutty, huh?).
Register Early
With so many races selling out these days it's best to register as far in advance as you can. If you plan on doing any of the popular races such as Vineman 70.3 (already sold out), Malibu (will sell out) and the Pacific Coast Triathlon (will sell out) you need to register early.
Some races have early registration discounts, as do many clubs such as the Orange County Triathlon Club.
Get Your Gear In Order
Check out the list we have at www.triathica.com under Information/Resources/Triathlon Checklist or click here to download it. This is the most comprehensive list I've ever seen. Make sure you have all of the appropriate items and that they're in good working order. I take my bike to Edge Cyclesports prior to every important race.
Check Out The Course
If possible, check out the course prior to the race. At times this isn't practical but when it is, it's a great confidence booster. The better you know the course the better you'll race it.
Pack Early
Take my mom's advice and start packing early. I start putting the stuff I don't need on a regular basis aside about a week in advance. You know you're going to be stressed so reduce that stress a bit by starting to get your stuff together early.
Lay out all of your gear and check it against your checklist. Check it out several times BEFORE packing it up.
Prepare Mentally
Start thinking about your race and visualize everything. Visualize the morning, the pre-race swim warm-up, the swim start and so on. This will help boost your confidence and help you deal with the unexpected . . . and there's usually something unexpected.
For me, prior to the Desert Triathlon (I didn't write about this in my race report) it was my clumsiness the evening before the race when I was practicing getting on and off my bike. I slipped and my leg got caught between the brake and the tire. Got a nice gouge in my leg. Thankfully, there were no more incidents.
Take it from me, the planner, the better you plan the better your race will go.
Cheers!