Ron Saetermoe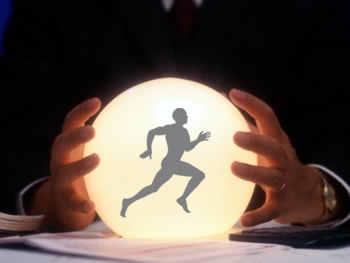 We all make predictions. We predict the stock market, the weather and of course our race results. Sometimes we're right – often we're wrong.
We did the Mulholland Challenge last weekend (see Scott Callender's race report below) and it was tough! 116 miles with 13,000 feet of climbing. Ouch!
As our gang started out Gary Clendenin predicted that he was going to go easy and just use this as a moderate ride. You see Gary is training for Ironman St. George and is a member of the Mark Allen Triathlon Team. I mean he lives and breathes this stuff.
Well, easy was anything but what he "predicted." Gary was an animal out there climbing the hills (mountains) like Lance. And because he was starting to stiffen up he barely slowed down at the SAG stops.
So watching Gary for the first dozen miles or so I "predicted" that he and I would bonk at the same time during the day. Guess what? He never bonked and rode like a madman possessed. For the record, neither did I, but I didn't ride like Gary did either.
So I just registered for the Hawaii Ironman 70.3 (Honu) on June 5th. I really wasn't planning on doing another big race this year (besides Ironman Arizona) but since I "killed" my race at Ironman California 70.3 I figured, what the heck! I'm feeling strong, I'm healthy and I've got the time to adequately prepare for it. And, I'm a huge fan of the Hawaiian Islands and I'm always looking for an excuse to go. As you may know I'm shooting to qualify for the "Big Dance" on Kona so Honu will give me another chance.
Before any important race I try to predict who is coming, how well they'll do and what I need to do to place well. Since there's only one Kona slot at Honu I'm going to have to have a killer day again. Fortunately, the top dog (Kevin Moats) won Kona last year and will probably win Honu again this year but since he won Kona his slot will roll down to the next guy . . . with any luck that will be me!
So here's my prediction for Gary at Ironman St. George. Since he's racing as a 59 year-old I predict he'll have a great day but won't qualify for Kona this time out. However, I do predict that he'll beat the top guy in the 60 – 64 age-group. This is significant because it will really set Gary up well for 2011, which is when I predict he'll punch his ticket to the Big Island.
Good luck Gary!
Cheers!