There are several schools of thought regarding proper triathlon bike fit. One school says you should be as aero as possible. Another says you should be as comfortable as possible. I say, it really depends.
The first thing you should know is that your success in the bike segment of your triathlon has a lot to do with your bike fit. A good fit will not only make you fast but will help you conserve energy. While you're never going to feel completely "fresh" when you get off the bike in a triathlon, you want to feel as fresh as you can.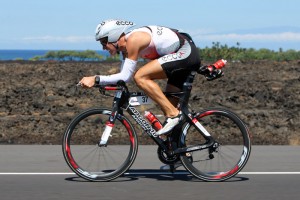 Proper bike fit really begins with the right size frame. I remember Dan Empfield said at his annual bike fit camp that this same guy would come every year to have Dan look at his fit. And every year Dan told him simply that he had the wrong size frame. If you've got the wrong size frame you simply can't get a good bike fit.
So how do you assure that you get the right size frame? Go to a reputable bike shop. A great bike shop, like Edge Cyclesports in Laguna Hills, will never sell you a bike that's the wrong size. Hank would send you somewhere else to buy it rather than sell you the wrong one. Ask around; if you talk to enough people you'll find a good bike shop.
One of the first questions, in my opinion, a bike fitter should ask you is what your primary race distance is. This has everything to do with how you're fit to your bike. The reason is that you can afford a little less comfort if you race mainly sprint races. A more aero position will help you slice through the wind better so what you give up in comfort is made up by being faster.
On the other hand, if you're racing mainly Ironman distance triathlons your comfort is critical. To try to race in an extremely aggressive aero position for 4 – 7 hours would be too much for anyone. Here, you're looking for a balance between being aerodynamic and comfortable (that's assuming you can actually be comfortable while riding for 7 hours).
While it would be nice to say that there was a perfect set of metrics you could use to optimize your bike fit it simply doesn't exist. Yes, there are surely guidelines that provide a good place to start but it's a very personal thing.
I've been fit on my Cervelo P3 by two very good fitters. The first was Hank at Edge. I totally respect Hank and what he knows about the sport. He got my fit in the ballpark and I was quite happy with it.
As my cycling progressed I wanted to know if I could possibly get more power out of my bike by tweaking my fit a bit. This time I went to one of the true icons in cycling and triathlon, John Howard.
John is a "trip." He's 60 something now and still a tremendous cyclist. He's definitely an old school guy and goes by gut but still uses much of today's technology in his bike fitting.
John will size you up and will make some general observations about your fit. He'll then pull out his goniometer and take some measurements. Then he'll put your bike on the CompuTrainer and give you a couple of power tips after he's tweaked your fit. After about 2 ½ hours you'll be on your way with a great fit.
Since the time John fit me I've only made one adjustment to my seat height – I raised it about one centimeter. That's it. Today I'm totally confident I've got the right fit for the kind of racing I do.
How's your fit?