Personally, I love to race. I love the preparation for the race, the excitement just before the gun goes off, the fitness I gain from it and the camaraderie with my pals. My Olympic distance race on Sunday, March 6th would exceed all my expectations.
I had very mixed emotions going into this race. I was very happy that my good pal Larry (Lar Dog) Davidson and I would be racing together again, but I was bummed because another good pal, Scott Callender crashed on his bike a week before and broke his collarbone and elbow and wouldn't be racing. Get well soon pal!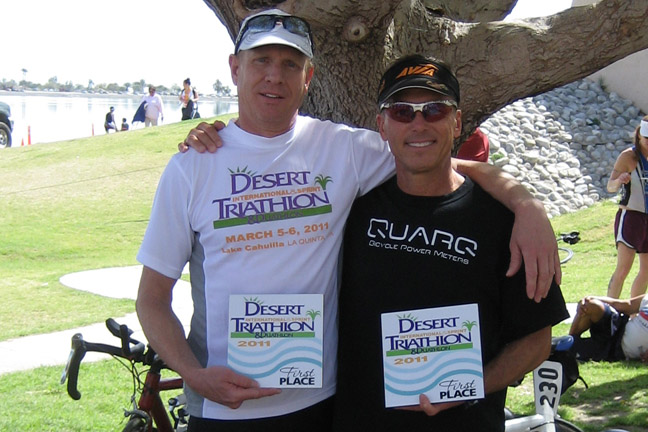 Lar Dog came by the house at 4:30 a.m. race day morning to pick me up. It's only about a two-hour drive out to La Quinta and the conversation was great on the way, so the time went fast. While Larry and I are fierce competitors we also support each other and hope we each get the best performance race day – win or lose.
The weather was perfect. The sky was clear (unlike last year where it was cold, windy and rainy), and the air was still. The temperature would max out around 80 so you couldn't ask for better weather.
We pulled into the parking lot about 6:45 and had to park out on the far end. No worries, we tossed our backpacks on and rode to the race start.
There was absolutely no line at packet pick-up so we breezed through that and actually got good rack space in the transition area.
A quick potty stop and warm up and the race start was upon us. Normally, I get to the race site a couple hours before the race starts and fidget but this time it felt like "butter."
Just prior to the race I like to get wet. For those of you that are interested in what this veteran of the sport does before the race, pay attention. I like to get into the water prior to the start of the race to get used to the temperature. Even though the water was a relatively warm 65 degrees it still comes as a shock. You can't always get in early but when I can I do.
After I'm in the water I swim a couple hundred yards – yep, not just 10 or 20. Most of them are easy but I do a couple bursts of speed to get my blood pumping. Getting used to the water and doing a couple quick intervals seems to help me avoid hyperventilating when I start.
Then, I frequently pee in my wetsuit . . . helps keep you warm. If others say they don't they're lying!
Back to the race. Lar Dog and I were in the very last of nine waves. I don't mind starting last except that I'm a pretty good swimmer and have to pass a lot of people ahead of me. Oh well, everyone in my age group has to deal with the same thing.
I lined up behind a hulking guy to the right. I was hoping he'd be fast because he was confident enough to line up in front. Wrong!
The gun went off and I took off quite quickly, but within myself. Only experience and practice can tell you how fast you should start. The pace I started with hurt a little but I settled into a fast, comfortable groove quickly.
I had two other swimmers in front of me I was following but they got too far ahead of me to draft off of. No worries, clear water was fine with me.
I was about halfway to the first turn buoy when I started catching up to the previous wave that went off three minutes before ours. From this point on I'd be passing people all the way to the swim finish.
One of the tricks to swimming fast in open water is to try to keep your head down while going as straight as possible. I quite literally count my strokes when I'm racing. In the beginning I'll count four cycles (left and right), then stretch that out as I get my bearings and things settle down. Eventually I'll try to count up to eight cycles then sight. As I get closer to a turn buoy or the finish I shorten that back up again. So I'm counting the entire swim.
About halfway back I was swimming side-by-side with another guy in my wave (I could tell because his swim cap was the same color as mine). As we reached the final turn buoy I turned it on and dropped him.
Another little trick I do when I come to the swim finish is swim right up until my hands hit the bottom of the lake/ocean/river, before I jump up. It's faster but you may run into some other folks.
As I exited the lake my heart rate was up there but I felt good. Stripped off my cap and goggles and half of my wetsuit before I got to the transition area. I had some trouble getting my wetsuit all the way off because it hung-up on my timing chip. That would cost me five seconds.
Ran through transition with my bike. The bike mount area is on a hill so it's a little more challenging than most races. I put my bike in the right gear before the start so that was fine but when I got out there was a lot of traffic at the mount line. It took me two tries to get on my bike and start pedaling. There goes another five seconds!
I like to clip my cycling shoes into my pedals prior to the start and put my shoes on while in motion. I'm not sure how much time this really saves but I do it anyway. It is a little tricky so I waited until I was on flat pavement before I actually put them on. A guy just ahead of me was obviously doing the same thing for the first time because he was weaving all over the road.
Since I won this same race last year I had a pretty good idea how hard I should push on the bike. The problem is that Lar Dog didn't race last year and I figured he'd be my main competitor this year. My goal was to keep my wattage around 200 (I have an Ergomo power meter on my bike) and monitor my heart rate to make sure it didn't go too high.
I started out a bit fatigued because I haven't' really been training at such high wattage yet this year but pushed on because my heart rate was within an acceptable range (165).
I eventually caught up to one of my training buddies, Julia Juliusson. Julia is an amazing triathlete and "podiumed" at the world sprint championships last year. We chatted a little and did most of the remaining bike ride together. She passed me on the bridge on the way back into the park.
My second transition was fast and I was out on the run in just over a minute. As usual, my legs were a bit confused about going around for over an hour and now going up and down, but I got into a groove pretty quickly.
The run is two loops around Lake Cahuilla and it totally flat. Some of it is off-road but not too bad.
A tall, lean 38 year-old guy was just ahead of me and going at a good pace so I tucked in behind him. We were moving along pretty well, passing other runners. Eventually, I caught back up to Julia and gave her a few encouraging words, and she did the same.
Then, I ran into another good pal of mine Al Gaspari. He was laboring but in good spirits.
As I started on my second loop of the run the aid station was busy and not very organized. I wanted water but no one was ready so they shouted "down there." I ran a few more steps only to see that there wasn't anyone there handing out water. Not feeling like I could wait until the next aid station I stopped and ran back. There goes another 15 seconds, and Julia!
I passed Julia again and shared my plight with her and ran on. I was going at a good clip because I knew Lar Dog was back there stalking me. I looked over my shoulder around the 5-mile mark but didn't see him.
On the way back now and feeling strong. One last glance over my shoulder for Lar Dog and on to the sand that leads to the finish.
Not seeing anyone around me that was an immediate threat I cruised to the finish. As soon as I finished I turned and looked behind me and there was Lar Dog. He was only seconds behind me! Thank God it didn't turn into a sprint finish!
We congratulated each other on a good race and met Julia and Al who were also close at hand. Paul (noted below) is one of the athletes I train. He also had a great showing!
A really great day!