Ironman St. George – May 7, 2011
Ironman number 8 is in the books, and I continue to be thankful to participate in these events.  I never imagined 6 years ago that I would ever even do an Ironman, as the distances seemed kind of ridiculous. This was my 2nd time at Ironman St. George, and it was a very successful day for me out there in the Southern Utah desert.
St. George is perched at 3,000 feet above sea level, and is a short 2 hour drive north of Las Vegas.  There is a Mormon church on every street corner it seems, and it is a clean and pretty small town.  The locals embrace the race, and there were street signs, banners, and lots of welcome smiles in the days leading up to the race.
Three weeks prior to the event, I made a weekend trip to St. George with my training posse and we swam, biked, and ran various parts of the course.  I have a great group of friends who share a passion for endurance events, and competition.  I  trained really hard for this event as I had high hopes to finish in first or second place in my age group, which would guarantee me getting a slot to the Hawaii Ironman in October.  I have recently aged "up" to the 55-59 year old age group, so now I am one of the younger guys in that category.
My wife Kim and I made the drive to St. George on Wednesday, giving me time to go through the incredible logistical challenges as one preps to travel 140.6 miles of swimming, biking, and running.  All Ironman competitions start at 7AM with a mass swim start, and each participant has until midnight to finish.  
The weather forecast was looking a bit scary, with the mercury expected to get into the 90′s.  I don't feel I am a particularly good hot weather racer, and would much rather work my butt off in cool weather.  I would be lying if I said I was not concerned about running in 90 degree plus heat!
Our group from Orange county included Slater, Monique, Max, Greg, Art, Gary, Ron, Quinton, Anna, and me.  They are all great athletes and I admire their abilities and dedication.  We also had some great support from friends and family to help cheer us on during the event.
We all gathered for our "Last Supper" at the Brick Oven restaurant on Friday night, then off to early bed, as I put in for a 3:30AM wake up call.  
Race morning's are not without a fair amount of hustling around, and for this race, we had to get to the main square in St. George to catch the 5:15AM shuttle bus for the 20 mile ride out to the Sand Hollow Reservoir.
The early morning air had the makings for a warm day, but the water temperature in the mountain fed reservoir was a cold 58 degrees.
Swim for 2.4 miles:
The water at 58 degrees shocks your body, especially your face.  
That said, after a short while it doesn't feel bad at all.  As the mass of 1,600 athletes surged towards the first buoy, I felt fine.  That fine feeling left me abruptly at about 500 meters, and I was unable to breath.  I was beyond being in oxygen debt, I was groping for any air, and thought I may have to DNF!  This had never happened to me before, and I was scared.  I flipped to my back and tried to breath, not much luck.  I continued to "try" and swim, but what a chore.  After about 15 minutes, I miraculously felt good again, and was able to swim in relative comfort the rest of the way.  Basically, this was a bad situation that fortunately didn't halt my race.  I came out of the water in 18th place in my age group with a swim time of 1h14'26″.
Bike for 112 miles:
I felt ok starting out on the bike, but not like I was going to ride like Lance.  I had decided to try and pace myself smartly on the bike as it was going to be a sufferfest on the marathon, and wasting too much energy on the bike would be a mistake.  I kept a steady effort, and navigated this tough bike course of over 6,000 feet of climbing in what I think was a disciplined approach. I saw my friends Jorge, Carla, and Jeff out on the course.  They had ridden their bikes out to the town of Veyo, where each athlete has to climb the dreaded "Veyo Wall" twice.  It is a monster climb that is just under a mile, but has grade pitches to 14%.  That is VERY steep.  It was great to hear them cheering me on, and it helped a lot!
I know I was hydrating properly as I had to pee a couple of times on the bike (yup, while riding).
I took many opportunities to douse my body with water to cool myself.  I got off the bike feeling tired, but not completely cooked.  I got off the bike and I had moved up 7 places to 11th. My bike segment was 9th best in my age group, and my bike time was 6h6′.
Run for 26.2 miles:
As I was descending on the bike from Snow Canyon, the heat blasts felt like someone had opened up the Gates of Hell.  I was NOT relishing the idea of trying to run a marathon.  The people watching and cheering us come in off the bike looked like they were cooking.
When I got into T2, my wife Kim was right there to hand me my run gear bag; that was a great surprise.  I loaded my feet up with Hydro-Pel to avoid blistering, and slipped on my running shoes.  
I started running, and the 90 degree plus dry air had my mouth parched before I had run a half a mile.  This was going to be fun.  I decided I would run this thing one mile at a time, and just stay in the moment.  I also was going to find every opportunity to cool myself down. 
As tough as the bike was, the run on this course is far worse.  It features 2,000 feet of climbing, so you are either running up or running down.  No flat parts at all.  
Each mile had a fantastically staffed aid station with ice cold sponges, ice, water, gatorade, gels, bananas, grapes, pretzels, chips. chicken soup, coke.  It is a veritable smorgasbord out there.  At each aid station I took ice and put it in my cap, my shorts, my top, down my back.  I grabbed sponges, and doused myself with water.  I started sucking down coke and some water, but mostly coke.  
I passed a few guys in my age group, but I wasn't thinking that clearly, so I couldn't remember how many guys I passed in my age group.  I was passing people like crazy on this hilly run, and just kept moving forward.  It turned out I passed 198 athletes on the run.
I did a good job of keeping my body cooled down, and it allowed me to keep running when the masses were reduced to a pretty pathetic Ironman Shuffle, or walking.  I felt I was running for a Hawaii slot, but no clue what position I was in. I had the 3rd best run in my age group, with a run time of 4h00'36″.
I finished the last 6 miles very strong and was pumped up as Kim caught me and kissed me as the "voice of Ironman", Mike Reilly, said:
"Larry Davidson, 55 years old from Dana Point, California, who has completed 7 previous Ironman races….YOU ARE AN IRONMAN!"
I later found out I had moved up to 5th place and would have a spot on the podium for my age group.  I also knew there would be a maximum of 3 slots to Hawaii in my age group, so I was certain I would be out of contention for that honor.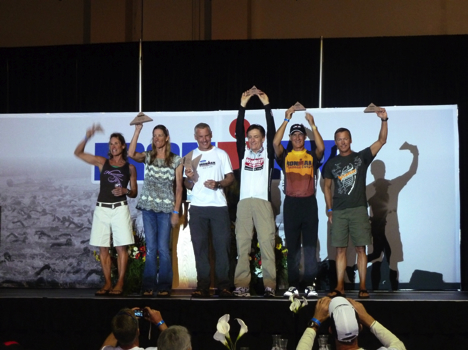 The competition for this event was absolutely brutal. The top 3 guys in my age group happened to all be doctors. One from the U.K, another from N.Y., and the other from South Dakota. This represented the 2nd time I have been on the podium (top 5), in my eight Ironman races.
I have not thrown in the towel on attempting one more race this year to qualify for Hawaii, but no decision made yet. I have already qualified for the 70.3 World Championships at Lake Las Vegas in September, so I am looking forward to that with great anticipation.
I feel absolutely great writing this 2 days after the race, and I am looking forward to getting back to moving my body and recovering from this race. Do yourself a favor, and go for a walk, a run, a swim; just move it baby, move it!
"Do today what others won't, so you can do tomorrow what others can't"