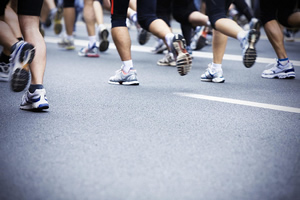 This time of the year is great for shaking off the cobwebs and getting out there and doing some running. The ½ marathon is my favorite distance to race because it allows me to go fast while improving my endurance. And while a lot of people enjoy doing marathons I find that it takes me too long to recover from them to make them beneficial to my Ironman training.
This year the SoCal ½ marathon was going to be different. In prior years I'd done quite a bit of speed-work prior to my race but I haven't done any speed-work since September last year. This was going to be interesting.
I had a ½ marathon PR last year averaging 7:00 pace (1:31:57/8th place in the M50-54 division) and felt great. Something to shoot for but giving the fact that my training was different and that I'd gained eight pounds from my racing weight, I wasn't expecting much.
No matter what happened it was going to be a great day. I was surrounded by my pals Al Gaspari and Stan Gertler. Our goal was to finish in around a 7:00 pace so we were united.
We hung together from the moment the gun went off, but it wasn't easy. A 7:00 pace was faster than I'd run in the last four months. I didn't even want to look at my heart rate monitor . . . but I did . . . 175!
Now a lot of people would be headed for the emergency room with a heart rate that high but since my max is 200 I was still okay . . . laboring badly but still okay.
I told the guys I didn't know how long I'd be able to hold it but I'd give it my best. I'm not sure if they were feeling as bad as I was but I was trying not to show it. In fact at one point Al said I was looking good! I guess I'm quite an actor.
The first miles went by very slowly for me. The race begins in Irvine's Woodbridge area which is quite beautiful and mostly flat. The only real hills are those going up and down the overpasses. And while it's pretty flat there are a lot of turns. In one sense it's nice because you get to see all the other runners, in another it's not as fast as it could be.
The three of us hung together until about mile six. That's when Al succumbed to a slightly slower pace. He waved at us as if to say "You guys go get 'em." So Stan and I labored on.
While I was getting quite tired the miles did seem to go by faster. The personnel at the aid stations were great, giving the athletes everything their bodies and spirits needed.
As an aside, in a race as short as this, I only drink water and don't take any solid food or gels. I can't seem to get anything other than liquids down anyway.
Stan and I were coming up on mile 10 and I had a really strong urge to pee, and the porta potties were coming up on the right. I was having a good race – right on pace – so I didn't want to stop and decided I'd go as far as I could without stopping, knowing full well that I may need to find a tree along the way.
As we blew by the porta potty the urge suddenly left. Cool! We pressed on.
Last year Stan won the M55-59 age group with a 1:33:04 (7:06 pace). This year it was hard to tell where we were among the other racers but we were definitely beating Stan's pace from last year. We were holding right at 7:00 pace.
Stan pulled slightly ahead of me around mile 10 but I still had him in my sights. It was around mile 11 that I caught back up to him again. Stan asked if I had found someone better looking to run with.
We ran to mile 12 together and I was doing everything I could to hang on, but Stan was still talking. I knew Stan had me today.
At mile 12 Stan turned it on and was gone. I had nothing to answer with and wished him well.
At the finish Stan had turned in a 1:31:39 (7:00 pace) and quite a bit faster than last year. Sadly, there were some faster guys there this year so his efforts only got him 4th. I finished in 1:31:59 in 5th place. I was never so happy to see the finish line of a race. I definitely gave it everything I had.
And Al? He had a pretty good race too and finished in 1:33:42 (7:09) pace. Not bad predictions all in all. We shot for 7:00 and finished in 7:00/7:01/7:09.
Thanks Stan and Al for a really great day! I couldn't have turned in the effort I did without you!
Cheers!