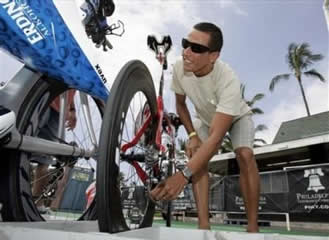 Race week is always a nervous time. Whether you're doing a sprint or an Ironman you're still going to experience a case of the nerves this week – even if it isn't your "A" race. I can relate because I'm only a week away from Ironman Arizona – my "A" race this season.
Yes, even us seasoned veterans get nervous about these races.
While it's easy to tell you not to be nervous it won't help but there are some things you can do to help your situation:
• Don't second-guess your training. It doesn't matter what you've done up to this point, it's done. If you under-trained, over-trained or trained just right you'll still want to question your training. Don't! There's nothing you can do now.
• If you're travelling to an event enjoy yourself but try not to be on your feet too much. At an Ironman there's no shortage of stuff to check out including the expo and local sights. All of this pre-race activity can wear you out!
• Be sure to check and recheck your gear. That means review your checklist (sample found HERE) to make sure you have everything, as well as your equipment to make sure it's in working order. Things as simple as a broken shoe lace can wreck your race.
• Eat plenty of salt. Salt will allow your cells to retain more water and help you maintain your hydration during the race.
• Eat your pasta dinner TWO nights before your race. If you're doing a short-course race such as a sprint or Olympic you really don't need to carbo load.
• It's hard to sleep well before an important race so be sure the night TWO nights before your race you get quality sleep.
• Check out the course if you can. This isn't always possible but I try to drive the bike course and ride the run course.
• Workout this week but short, low-intensity workouts. You won't gain fitness this week you just want to stay loose.
Always remember that no one is forcing you to do this . . . it's all about staying healthy and having fun. Even if you're a top age-grouper or trying for a Kona slot, try not to take it too seriously. I've found, in athletics, I always perform better when I'm not totally stressed out.