Jarrett Pflieger
No races coming up this weekend? Still want to get the competitive juices flowing?
Triathica is having another CompuTrainer time trial race this Saturday the 29th at 3:00 p.m. We are planning to do the OC Tri course, but it's really up to the participants. Sorry guys, Ironman courses are off limits. Only 6 spots available, so don't wait to reserve your spot if you are interested.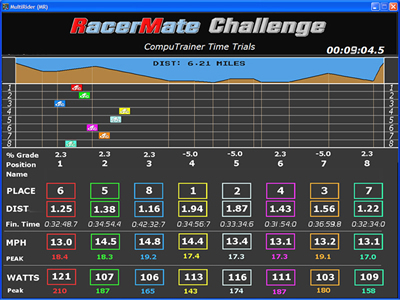 With the CompuTrainer MultiRider system, we can have up to six riders at once set up their own bike on a computer simulated course that mimics the experience of riding out on the road. The computer-controlled trainer will simulate climbs and descents in the course by increasing or decreasing the resistance. Seriously, it feels like the real thing, maybe even a little bit more challenging. Finally, a video game that gets you in shape!
During the course you will be able to see your cadence, heart rate, watts, speed, and tons of other data on the screen while you race. This is an incredible tool to help you monitor how your body performs under race conditions.
This is a great opportunity for a fun and competitive training session, or a way to prove you are as good as you think you are on the bike. Even if you don't really want to compete and just want to try out the CompuTrainer, definitely feel free to come in and ride the course for a good workout. No pressure whatsoever.
Its only $15 to race or $10 if you are already a member, so hurry and reserve your spot today. Call 949.273.6223 or email jarrett@triathica.com to RSVP.
Date: Saturday, August 29th
Time: Starting at 3:00 p.m. and going until?
Cost: $15.00 each (Members pay $10)
RSVP: Jarrett@triathica.com