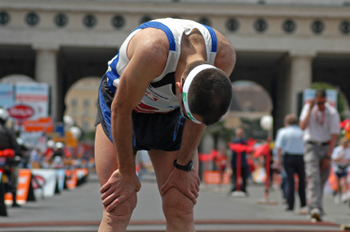 Triathletes have a really tough time with recovery . . . we simply don't give it the respect it deserves.
You may not know it, but your muscles actually develop during rest, not exercise. That's the time that the muscles repair themselves so they can come back stronger than before.
The trick with recovery is knowing how and when to apply it.
Here at Triathica we suggest a three-week training cycle for our athletes. The first week is a "Moderate" week which means it's a hard week. The second week is called a "Maximum" week which, as the name suggests, is a very hard week. We then follow that up with a "Minimum" week which is designed to allow your body to absorb all of the hard work you've done.
In addition to the three-week cycle, you should also be allowing your body some recovery time every week. At times that may mean an entire day off or an easy workout (recovery workout). In any case your body needs this time to allow you to really put in a quality workout later in the week.
There are some signs that will tell you if you're getting enough recovery time. For example, if you're having trouble sleeping or have extremely low energy. If you're having trouble motivating yourself to do a particular workout or an elevated heartrate.
In my case, after having done the Ironman World Championships I got a bad cold. The timing was terrible because I had Ironman Arizona just six weeks later.
Knowing that I needed to rest after my race anyway, and that it was best to try to get my cold out of the way, I took an entire week off from any form of exercise. The problem was that when I started back to exercising after that my heart rate was elevated. The way I know that is that I do certain workouts each week on my CompuTrainer and treadmill that I repeat (these are also referred to as "marker sets") and when I did one workout my heart rate was 20 beats per minute faster than my heart rate just before Kona.
Clearly, I wasn't recovered from my Ironman or my cold. To try to get ready for Ironman Arizona I knew I would have to get some quality training in but my elevated heart rate told me that would be difficult.
I did the best I could within those six weeks, trying to balance workouts and rest, but at 55 I didn't succeed the way I would have liked to. If you read my IMAZ race report you'll see that I had two major breakdowns: my cycling power and my running endurance.
At IM Kona I managed to maintain 200 watts on my bike the entire race whereas I was only able to maintain 164 on my bike at IMAZ. Sure, that was good enough for 8th, which isn't bad, but I was shooting for 190 watts.
In addition, my goal for the marathon was a 3:45 or 8:35 per mile pace. Sure, this was aggressive but I felt 4:00 tops (9:00 pace) was reasonable. I was able to maintain a 9:00 pace for the first 11 miles but completely bonked afterwards. The run/walk ensued.
It was clear to me that I was not fully rested for IMAZ. My nutrition was good, my training leading up to the race was good, everything was good, except my recovery.
The moral of the story is that you should not underestimate the importance of proper recovery and listen to your body. If it's telling you you're not ready for a hard workout, back off.