We really don't cut each other much slack in the gang of triathletes I hang out with. We all talk "smack." You know the disparaging comments you make about others, particularly the ones you're good friends with.
The way we use "smack" is to help motivate each other. We'll "dis" (disrespect) the training methods used by the other guys and remind them how we beat them at a particular race.
Naturally, it's all in fun, but it does motivate us.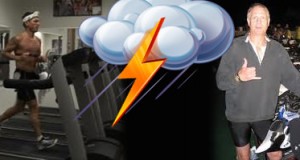 For example, even though I've had some good success in my racing this year I've decided to change my training for next year. Well my good pal Larry "Lar Dog" Davidson was giving me a ration of sh** about the changes I'm making. While he clearly doesn't agree with my changes I know he supports me totally (even though he's aging up into my age group January 1st).
That's how it is. You have some good fun by giving the other guys crap while really supporting them and enjoying their accomplishments. Now, I don't expect Larry to "let" me win at Ironman 70.3 California but I know he'll want me to have a good race and if that means beating him, he'll be happy for me.
Of course, the reverse is true as well. If I beat him I hope he'll feel like he was at the top of his game and that I just had the better race that day.
I believe in using as many forms of motivation you can get your hands on. Find others to inspire you. Find others to train with. Seek out "peer pressure." Have others hold you accountable. Log your workouts and keep a diary. And of course, the proverbial favorite, keep the "smack" train rolling!
And speaking of Ironman 70.3 California, Larry, how much did I beat you by again last year?
Cheers!