Ron Saetermoe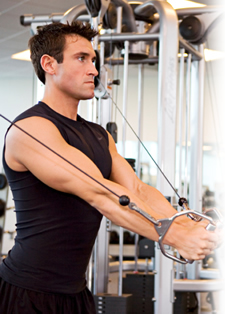 As you know, we're huge advocates for resistance (strength) training here at Triathica. Jarrett takes the lead but I'm really concentrating on this for 2010. I'm going to need it if I'm going to qualify for Kona. (Did I say that out loud?)
Alyson Wolfe, a grad student at Cal State Fullerton, helped us formulate the Triathica program. It's really coming together quite well. So well, that I expect we'll turn it into a book at some point.
I'm validating our program now as the designated Triathica guinea pig. I can tell you that it is definitely kicking my butt! Who would think that you could hurt so badly without lifting 200 lb weights?
Actually, I see my muscle pain as a very good thing. I feel my core, upper body but mostly my legs getting stronger (which is where I really need it).
I had a couple thoughts I'd share with you that may help improve your triathlon performance next year:
1. Get on a resistance-training program. If it's not ours, get with someone. You'll see better performance in your races and help reduce injuries.
2. Get started right away. I started my program last week (twice a week) and since I'm so sore, it's compromising my swim, bike and run training. Delaying your resistance training until you're already into your season will compromise your training too.
3. Start off easy. It may seem ridiculous doing so few sets with so little weight to start, but a slow build will help you make consistent gains without injuring yourself. The same goes for swim, bike and run training.
4. Many of the exercises can be done at home. Get yourself a fitness ball, some bands and perhaps some dumbbells so you can do many of the exercises at home. Even though I have a 24 Hour Fitness membership AND MY OWN GYM, I still find it convenient to work out at home periodically.
5. Always use proper form. It amazes me to see men and women at the gym hoisting these huge weights and using lousy form. Just like your swimming, cycling and running, form is critically important. Without proper form, you won't get the maximum benefit and will dramatically increase the chances of injury.
We'd enjoy hearing about some of your resistance training ideas as well.