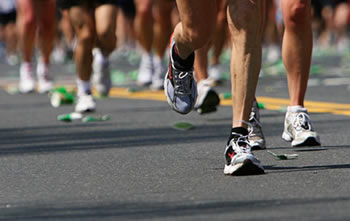 Early season racing is always tough. You've probably been overeating and under-training for at least a month. That's exactly where I was when I did the 2010 SoCal Half Marathon on Sunday, January 9th.
I'm one of those people that like to reward myself when I work especially hard. And since I worked my tail off in preparation for IMAZ I've been rewarding myself ever since. As a result I've gained six pounds. I'm not beating myself up about it, I'm just saying.
Actually, I have been working out. As of race day I had just finished the first four weeks of my 2010 IM training plan and hadn't tapered for the ½ marathon. I did beat myself up pretty bad the week before and included resistance training and a couple of awesome CompuTrainer sessions (you know the ones where your legs are shaking when you get off your bike).
And while I had no reason to expect a PR (personal record) was in the cards for me, I decided to go hard anyway. Besides, Scott (Scooter) Calendar was going to shoot for 1:30:00 so I figured I'd run with him at his Garmin defined 6:52 mile pace until I blew up.
The race was great with a lot of friends there. The guy I really had to keep my eye on though was Stan Gertler. Stan is older than me but runs like a rabbit. And as it happened, Stan was staged just in front of me and Scooter.
The gun went off and Stan took off. Scott wanted to log the first mile a bit slower than our target rate to ease into a good pace. The first mile was 7:05, just exactly as Scott prescribed.
We started to pick up after that and we nailed a 6:50 pace for the next several miles, still on Stan's heels. It was getting hard. My breath was labored and my legs were burning but I was going to hang on for all it was worth.
At about mile six I determined I couldn't hang with Scott any more so I let him go. We waved at each other multiple times throughout the race. While I didn't actually "blow up" my pace had slowed considerably, but it was "comfortable." As comfortable as one can be with labored breathing and legs that are on fire!
The miles click by amazingly fast when you quiet your mind. I know Mark Allen really believes in this and I'm not sure if I'm doing it in the prescribed method but I get into a near trance after a while and time goes very quickly.
I hit every water stop other than the first one. This is a little bit of strategy I use. Generally, a lot of racers go out at a pace faster than they can hold so the first aid station, in particular, gets clogged up (I use this same strategy in century rides and SAG stops). After that I take water at every aid station.
No, I don't drink Gatorade or take gels. I do take gels with me as insurance but I didn't use any today. The reason is that many people tend to take in more calories than they need while racing. We were taught at our USAT training that the average male has about 3,000 calories in glycogen stores and women have about 2,000. If that were the case, I wouldn't come close to burning that number of calories so water should be just fine.
Turns out, water was just fine and I managed to maintain a good pace for the entire race. 1:31:43 (7:00) a PR. Think I didn't celebrate after that? Beer!
Next up, the Palm Springs century ride on Saturday February 13th followed by the San Diego half marathon on Sunday, February 14th. You game?