Indoor CompuTrainer Race
Every week we're going to try to put together a social event for all of our members, and non-members just to promote the great sport of triathlon. Last week we enjoyed watching the 2008 Ironman World Championships. This week we're going to try something a little different.
Triathica is excited to offer a chance for you to race the Orange County International Triathlon bike course this Friday, July 17th. Just one little twist, we will do it indoors, at the Triathica triathlon training center in Lake Forest.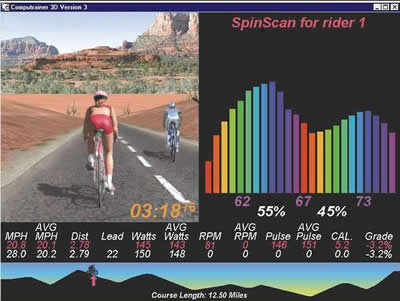 With our CompuTrainer MultiRider system, we can have up to six riders at once set up their own bike on a computer simulated course that mimics what will be experienced at the actual race. The computer controlled trainer will simulate climbs and descents in the course by increasing or decreasing the resistance applied to your back tire. Seriously, it feels like the real thing, maybe even a little bit harder.
During the course you will be able to see your cadence, heart rate, watts, speed, and tons of other data on the screen while you race. This is an incredible tool to help you monitor how your body performs under race conditions.
This is a great opportunity for a fun and competitive training session, practice for the actual OC Triathlon, or a way to prove you are as good as you think you are on the bike.
Even if you don't really want to compete and just want to try out the CompuTrainer, definitely feel free to come in and ride the course for a good workout. No pressure whatsoever.
We will be giving out prizes to the fastest male and female of the day. Its only $5 to race, so hurry and reserve your spot today. Call 949.273.6223 or email Jarrett.Pflieger@triathica.com to RSVP.
Date: Friday, July 15th
Time: Starting at 5:00 p.m. and going until?
Cost: $5.00 each
RSVP: Jarrett@triathica.com