Jarrett Pfleiger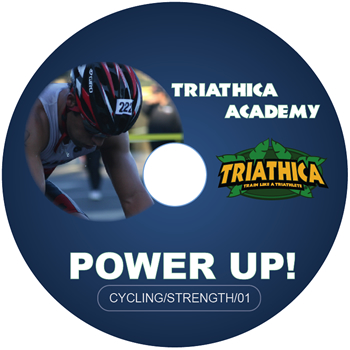 Are you ready to take your cycling performance to the next level? Stop wasting time by logging mile after mile outside on your bike. You can get a better workout done in less than half the time by training harder and smarter indoors.
Sure, the scenery isn't as good, but if you are serious about improving your performance on the bike, you need to add indoor training to your regimen. Focus completely on your workout without worrying about cars, stoplights, obstacles, flats, other riders, etc. All you need is an indoor trainer or stationary bike, and we will provide the workout and motivation.
Triathica would like to introduce the first DVD in the Triathica Academy series, Power Up! Power Up is a 60-minute spin workout designed to help build your leg strength to climb hills and power through the wind. The DVD will lead you through a series of intervals that will test your ability to generate power on the bike by continuously varying cadence, power (watts), and interval duration. The interval timer is accompanied by video of a spin class held at Triathica triathlon training center in Lake Forest, CA. The video is led by Ron Saetermoe, president of Triathica and USAT certified coach.
For each interval we will tell you which training zone you should be in. Don't know your personal training zones? No problem. We will provide a test you can perform at home to find your zones. Knowing your training zones is valuable for making sure you are training at the appropriate intensity every time. Don't waste time training in too low of a zone, or burn yourself out too soon by training in too high a zone. Test your heart rate zones before you do another workout. You can use this same test as a marker set to track your progress as you become stronger on the bike. Retest every few weeks and adjust your zones accordingly.
Stay tuned for more training DVD's from Triathica as we continue to develop the Triathica Academy series. We are dedicated to enabling anyone and everyone to reach their triathlon and multisport goals. Let us help you train like a triathlete.
Please click here to purchase the DVD.