Jarrett Pflieger
After a brief hiatus, we are excited to announce our spin classes will return on a regular schedule.  We will start with two classes a week and add more as they grow in popularity.  The first class will be every Tuesday morning (tomorrow) at 6:00 a.m. and the second will be every Thursday evening at 6:00 p.m.
The classes are open to Triathica members and non-members.  Members with a basic membership and non-members will only be charged $10.00 and $15.00 respectively ($5.00 discount).  Discount packages are available as well.
If these days and times don't work for you let us know.  We want to have classes whenever it works best for the majority of our athletes.  Remember, a Triathica spin class isn't just any spin class.  Our state-of-the-art CycleOps 300PT indoor cycles allow you to train with power (watts.)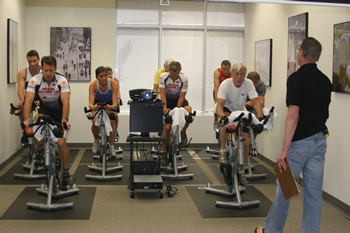 One of the best features on CycleOps 300PT is that it has a built in Powertap in the rear hub.  What that means is that you will be able to see how much power you are producing, measured in watts, at any time during your workout.
Measuring power is the most objective form of monitoring a cycling workout.  In the past, heart rate training was the norm.  There is definitely a benefit to HR training, but many outside factors can affect heart rate such as fatigue, time of day, altitude, supplements, and hundreds of other things. To get a true picture of your effort, you need to train with power.
When you know exactly how hard you pushed in any given workout, you know exactly what you need to do next time to get faster.  It doesn't make sense to lift weights without knowing how much weight you are lifting, so don't ride an indoor cycle without knowing how much power you are producing.  Continuously challenging yourself is the only way to get better.
Training out on the road is great, but how good of a workout to you really get?  Stoplights, cars, tail winds, downhills, flat tires, and pedestrians can all get in the way of a good workout.  Indoor cycles give you the ability to train efficiently without variables.  You will work just as hard, if not harder, in a one-hour session on our CycleOps bikes than multiple hours out on the road.  If you truly want to improve your cycling skills, or just have a fun workout in a group atmosphere, come check out our spin classes.
Triathica offers four main types of spin classes each with different variations: endurance, speed, power, and recovery.  Each workout focuses on different aspects of a well-rounded cyclist.
To reserve your spot in a class, please call 949.273.6223 or email Jarrett@triathica.com.  You can also enroll online at www.triathica.com.