Ron Saetermoe
We're in the off-season now. How do you know? Look at the rolls beginning to form around your waist!
It's hard staying motivated during the off-season, especially if you've trained and raced hard. So how do you do it?
For me, daily exercise is the norm. A day without exercise is like a day without brushing my teeth. Something's missing. So these days it's hard for me not to exercise. How sick is that?
I know that's not normal, and it's taken me many years of this twisted behavior to get there, but that's me. If you're not like me you may need a little motivation. Here are a couple ideas:
• Exercise with a group. There are plenty of them out there. Most of the triathlon clubs have group workouts and there are plenty of running and cycling clubs.
• Use a training plan. Yes, even during the off-season a training plan can help. Your workouts may not be as long or as intense, but many people find that this structure helps keep them on track.
• Concentrate on your "limiter." Your limiter is the event you're weakest at relative to your competition. For me, that's the cycling leg so I'll concentrate on doing more cycling during this period.
• Start a resistance-training program. Too many triathletes blow off the resistance (strength) training thing. The off-season is a great time to pull back on the swim/bike/run training and do more resistance training.
• Don't go home after work. This one gets me most of the time. If I can do my workout immediately after work instead of going home, the chances that I'll actually get my workout in is expontially higher.
• Watch triathlon videos. We've got a bunch here at Triathica and the Universal Sport channel broadcasts triathlons from time to time.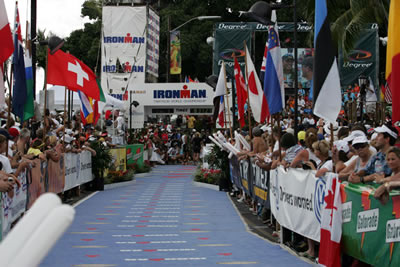 • Register for an early season race. I'll be doing the Desert Triathlon out at Lake Cahuilla again next year on March 7th and the California 70.3 on March 27th. The "threat" of these early season races helps keep you motivated to stay fit.
I'm sure there are many more ideas out there but these are a few of my favorites. Oh yeah, and don't forget, we're here at Triathica to help keep you motivated too.
Cheers!