Ron Saetermoe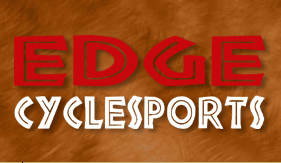 A few weeks back I lamented about four local merchants that went under in this rough economy. This week I'm happy to report that a genuine institution in the triathlon world is actually expanding . . . our good friends at Edge Cyclesports.
Hank and Mary Ann at Edge are more than store proprietors, they're merchants of speed! I bought my first Trek bike from Hank when I first moved to California. That bike is now in Jarrett's garage and still has a few good miles left in it.
Since then I've bought two more bikes from Edge. A Kestrel and my Cervelo P3C (I no longer can blame my bike for my slow times).
I'm a huge believer in buying local. I can't stand to see our local businesses going under and I often wonder if perhaps I'd just spent a little more money there (along with my friends) could we have saved them? I'm not sure, but I strongly encourage you to go to the new Edge Cyclesports opening Monday, March 1st.
Sure, you can probably buy most of the same stuff Edge sells online but whom are you supporting? The things the online merchants can't do for you is give you the information and advice you need that may make your entire training and racing experience better.
When I walk into Edge I simply ask Hank to make me faster. Sometimes the response is just to "pedal harder" but sometimes it's to change my set-up, replace my chain or to do nothing at all. I put all of my trust into Hank and the gang at Edge and I know lots of others that do too.
Go see Hank and Mary Ann at their new store (not far from the old one), and tell them Triathica sent you.
Edge Cyclesports
23561 Ridge Route, Suite J/K (new address)
Laguna Hills
949.472.9497