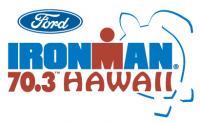 I'm just about two weeks away from my first "A" race of the season: Ironman 70.3 Hawaii. I didn't have this race on my original schedule but since I did so well at the Ironman 70.3 California I figured I'd add this race to try to qualify for Kona.
So this is the "big build up" as well as the "taper." It's a build up because all of the excitement and emotion before your really big race. I'm already starting to pack. I've had my bike checked out once, and will do so again when I leave it at Edge Cyclesports for TriBikeTransport to pick up. I'm double-checking my flights and hotel accommodations. Check, check, check!
No sleepless nights yet but there will be as we get closer to race time. I get into Kona on Thursday, June 3rd. Since the race is Saturday I'll do my really big carbo-loading Thursday night. For some reason I just don't race well when I've eaten a big meal the day before a race.
I've checked in with Dr. Sam Sunshine about his advice. Increase the salt intake a week prior to the race and drink lots of fluids a couple days before. Check!
I've been to the website numerous times to check on who's racing and then gone to Athlinks to see what their race results have been. Check!
I've also invited Oguz my partner in the Triathica Academy and my 15-year old son to come along with me so I've had to revise the travel plans. Check!
I've had lunch with Al Gaspari, a great age group competitor to discuss his experience at the same race two years ago. I've also called Kirk Matkin and asked for his advice as he's done the race numerous times. Check!
Frankly, it's all a bit exhausting! After all this I think the race will be the easy part.
The best you can do is just check and recheck everything because this will help prevent an over stressed situation come race day. Be sure to taper appropriately and rebuild the muscles you've torn down from the previous training.
Two weeks left. Can't wait!
Cheers!
Ron Saetermoe