I hated Hawaii (Oahu) my first trip there. I went on business in 1986 when I was working with Mazda for a dealership meeting and couldn't wait to get home.
It was hot, humid, crowded (Honolulu) and my boss was a real jerk. That first trip there could have easily been my last.
I'm not sure why I went back but I did go back with my wife (at the time) but this time we went to Kauai and I loved it. Now I was starting to "get" what Hawaii was all about. Honolulu was just a hotter, more humid version of Long Beach to me, but it certainly wasn't the Hawaii I know and love now.
Since 1986 I've been back to the islands at least once a year – in good years it's more than once. This year, it will be three times.
I didn't plan to go three times this year but you might say things just kind of worked out for the best for me. About a year ago I planned a trip to Hawaii (the Big Island) with my son, sister and niece. I burned up my remaining frequent flyer miles, which covered the airfare, hotel and rental car for an entire week for everyone!
The reason I'm going three times this year (all to the Big Island) is because I had a good race at Ironman 70.3 California (took 2nd in my age group) so I wanted to find another Ironman World Championship race qualifier. It was either going to be Buffalo Springs or Honu. It was Honu, and I got my slot.
As a result of qualifying at Honu I'm going back again in October. YOOHOO!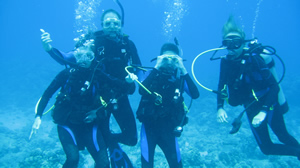 My son got certified as a scuba diver a couple years ago (on the Big Island) and recently turned 15 so now he has his full "C" card. He and I did three, two-tank dives off our favorite boat, Bottom Time. My sister and niece got certified this trip while Steven and I were diving. It was an absolute blast!
We also did a zipline tour. This all-day, 9-line tour was our first attempt at it. It too was a blast!
I did three swims, with two at Hapuna Beach and three runs down the Queen K. Visualizing my race coming up in October all the while.
Yes, you could say that I'm in love with Hawaii. I always look forward to going back . . . even if it is three times in one year.
Cheers!