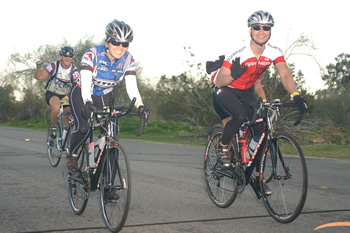 This "race" report is coming to you later than I had planned. I had no clue that recovery would take as long as it did.
A little over a week ago, my husband and I found ourselves at the start line for the Tour de Palm Springs. We have never been to Palm Springs, and we have never participated in a ride of this sort. So, of course, we knew we had to give it a try despite the fact that his longest ride had been 30 miles recently and my longest was 55. But that didn't matter. We had convinced ourselves this was not a race. We were going to have a good time!
The weather was absolutely perfect that day. There was some wind but it wasn't bad at all. The sight of all the people and bikes at the start line was amazing. It was a first for me so I wanted to absorb all the energy to help me get through my first 100-mile ride.
I felt the first leg of the ride dragged on. I couldn't believe how much time it took to get to the first SAG stop. There were a lot of people to navigate around before we settled at our pace. It took some time for me to warm up as well.
The climb was gradual but I could feel myself working hard. My goal was to go hard for the first half of the ride. I had not planned on stopping until after 50 miles. Unfortunately, it was nearly impossible to get through the first SAG stop without dismounting. The crowd was huge and there was no room to ride through.
Just a short stop and off we went. The second leg went by quickly. The downhill was great. We did see a rider taken away by ambulance so that was a reality check to stay alert. At this point, we had settled in with a larger group. I have never ridden in a pack so this was a little nerve wracking for me. I have been spoiled with all the trail rides in Orange County and the closed bike routes during the triathlon races. But, with 100 miles to practice, I eventually became comfortable!
Before I knew it, we passed the third SAG stop. I was doing well until about mile 35. I was feeling pretty tired at this point and decided to draft behind my husband. I still had more than half the ride to complete so I had to play it safe. After about 5 miles, I felt better and took the lead. Before I knew it, we were at the half way point. It couldn't have come sooner. The road was getting rough right before the stop. Lunch was a nice spread of different sandwiches, Chex Mix, M&Ms. We ate very little despite the vast array of choices we had. I just didn't know how my body would react to real food during a ride. I stuck with my Clif Bloks and Perpetuem, which worked out fine.
The last 50 miles flew by. I was enjoying the scenery and getter bolder on the road while my husband looked for excuses to get off the bike and rest. We stopped once so he could offer his bike pump to someone in need (there were a lot of flat tires on this course). After that little rest and a lot of chit chat, he got his second wind, and we were off. We got lost briefly following a group. We had just mentioned how lucky we were to be following people who knew where they were going. Once we were back on track, we decided we should glance at the map so we had a clue where to go. Up to that point, we weren't really worried about the directions.
At last, we found ourselves heading for the finish line. We had exchange leads the entire way with many groups. In the end, a huge crowd of us seem to cross the finish together. It was very thrilling to accomplish a century for the first time! The energy of the crowd was amazing throughout the whole ride. I did not feel exhausted at all after the ride. In fact, I felt motivated to attempt another long ride in the near future. My body, however, told me I needed to give it some time to rest. And so I did for about a week!
LY LY TA