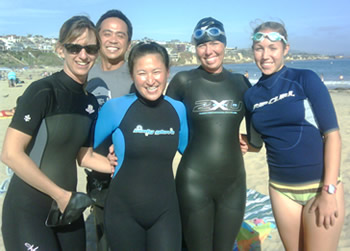 I have truly been blessed to have so many great friends in my lifetime. Some I've managed to keep since childhood and some are brand new. I've got all kinds of friends but none inspire me more than my triathlon friends.
My first triathlon friend wasn't even interested in the sport. Greg Fitts just knew I was pretty athletic so he inspired me to enter a local triathlon in Des Moines, Iowa. I borrowed a bike from another friend, Rich Freeman, and completed my first triathlon in 1983.
When I moved to California in 1984 I was inspired to keep the triathlon thing going by Les Sterrett. Les was a great triathlete and hooked me up with some other triathletes to complete a team to compete in the OC Triathlon (the original). After being part of a team for a couple years I ventured out on my own.
After that I was a regular at the local California triathlons but always mid-packer. I used my triathlons as a means to keep me motivated to workout. Absolutely nothing wrong with that. Any excuse you can have to stay fit.
In more recent years my tri buddies have included Mark Arenal and Vince Tjelmeland. Not only do I consider these guys my tri buddies but also my auto racing buddies. We ride, race and hang out a lot. Tonight we're celebrating Vince's recent nuptials.
It really wasn't until 2006 that I started to get competitive in my age group. At that time I was in the M50-54 age group. I found I had more time, more money and more motivation to train . . . so I did.
I started having some good results and would occasionally find the podium but it wasn't until I met a new group of friends that I started to see some really good results.
While a relative "newbie" to the sport, my good friend Larry (Lar Dog) Davidson has embraced the sport like no one else I know. He studies it and not only has all of the tech toys but knows how to use them too! He's not only given me great advice but also kept me motivated to do better.
Another great friend is Russ Jones. Russ has been at this even longer than me. He's extremely fit now and has dropped over 10 pounds and has his eye set on the world sprint championship. I have no doubt that if he's on his game he'll win. Russ always makes time to talk tri and also has tons of great advice.
Chris Johnson is my Ironman mentor. He has qualified, and competed in the Ironman World Championships 15 consecutive times. I enjoy his advice but I can only stand riding with him a couple times a year because he always kicks my butt!
One of my newer friends, Stuart Lowndes, is another relative newbie to the sport but has taken it by storm. We rode just this morning . . . or should I say I drafted off of him this morning. He's gunning for another win at the Ironman 70.3 Texas. He's trying to qualify for the world 70.3 championship in Clearwater. They can just hand him the spot right now as far as I'm concerned.
It's been great having so many good friends in the sport. I certainly wouldn't have enjoyed it as much, or done as well, without them. Perhaps you've found the same.
Cheers!