Ron Saetermoe

I've been very fortunate to have a successful automotive marketing and consulting company for 19+ years. It's given me a good life and I've done some very rewarding work. Let's face it, Automotive Associates has allowed me to pursue my passion.
My passion, as you know, is triathlon. It's been about two years since I started looking for a niche in the triathlon space and discovered that there weren't any gyms specializing in triathlon; in the world! Could there be an opportunity there?
Jarrett came on about six months after my epiphany and started researching the market. Of course the research looked good at the time so we developed our business plan and opened the business in June this year.
So far it's been really great, but we need your help. Mostly we need to spread the word about Triathica and we've got a great vehicle to do it with . . . the Triathica Triathlon Roadmap.
By simply entering your email address you get a free copy of the Triathica Triathlon Roadmap – a $19.99 value. How much easier could it be? If you're already on our email list you can download the book for free right now.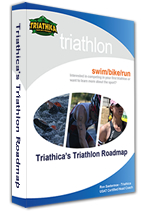 Perhaps the easiest way to help us is to forward this email newsletter to everyone you know and have them sign up for the free copy. Simply point them to the Triathica Triathlon Roadmap box on our homepage at:
www.triathica.com
We really appreciate your help.
Cheers!