I just finished watching the 1993 Ironman World Championship DVD as I rode my CompuTrainer. I have all of the DVDs from 1992 forward and they always inspire me.
In the 1993 version they interviewed a lot of the top contenders prior to the race in Boulder, Colorado – the other triathlon mecca. At one point they interviewed Mike Pigg and he said he really enjoyed the fact that they could all train together as friends but race as enemies!
It was a great point which Mark Allen amplified. His word of caution, however, was to make sure you're doing your own thing during training and racing. If you train with friends stronger, or weaker than you, you could be compromising your workouts. Also, if you try to race someone else's race you could get yourself in trouble as well.
I'm extremely fortunate to have a couple of really good friends in my age group that I train with occasionally. Larry does the long stuff, like me, while Russ is a short course specialist.
I train more with Larry because our rides tend to be longer (50 – 100 miles) which is what I need for my Ironman training. Although I also train with Russ occasionally and put the hammer down for shorter rides and runs.
It's great to have people you can train with but race day is different. Russ called me a couple days ago and asked if I was doing the Pacific Coast Triathlon in September. I told him I had just registered. He told me that I was his primary competition for the series championship.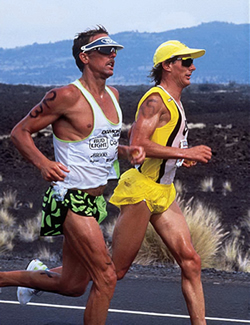 Earlier this year Russ and I did the OC Duathlon. Russ took first and I took second. Pacific Coast is the second in the three-race series. While I'm flattered that Russ even considers me competition, he needn't worry because I'll be in Kona for Ironman at the same time as the third event of the series. I'm not going to cut him any slack at Pac Coast, however.
Yes, come race day I put it all out there. I try to run my own race and leave it all on the course. For Pacific Coast I'll try to push the pace a little harder than normal on the swim to get an advantage on Russ. Then, I'll try to stay ahead of him for the entire bike leg of the race. This will be tough because Russ is one of the best cyclists out there – of ANY age!
If I can manage this it will only be a matter of time before he catches me on the run but I hope to put a little bit of a scare into him to push him a bit. You see, Russ will have just come back from Budapest from the sprint ITU World Championships so he should be suffering from the race and jet lag. This may be my best chance to beat him.
It's all in fun but the "smack talk" has just begun!
Cheers!
Ron Saetermoe