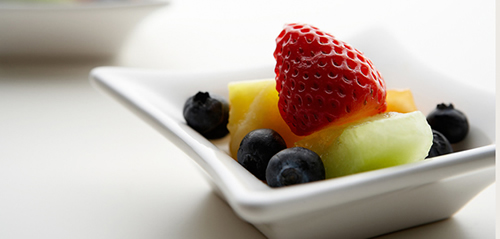 Did you know that adjusting the timing and nutrient composition of your after workout meals can increase your energy, enhance your ability to gain muscle mass and improve your performance in subsequent workouts?
The two-hour window
Your body has an enhanced ability to replenish muscle glycogen stores (one of your main fuel sources during workouts) and repair muscle tissue during the two hours following a workout. In order to optimize recovery, make sure to consume a recovery snack within 30 minutes of your workout and a real meal within two hours. The recovery snack and real meal should include carbohydrates and protein.
When choosing drinks, bars or other recovery foods, look for a 3:1 or 4:1 ratio of carbohydrate to protein. Here are a few recovery recommendations for drinks, bars and other foods.
Recovery drinks
• Low fat milk, chocolate milk or soymilk
• Recovery shake made with milk/yogurt, fruit & 1 scoop of whey protein
• Light Muscle Milk with a banana
• Endurox R4
• P90X Recovery Drink
Recovery bars
• Kashi Go Lean
• Luna
• Powerbar Harvest
• Clif Bars
• Balance or Zone Bar with fruit
Other convenient recovery foods
• Low fat yogurt or cottage cheese & fruit
• Sandwich containing lean meats or peanut butter
• Lean Ole' frozen burrito from Costco
• BRC burrito from El Pollo Loco
Recovery nutrition is most important following:
• Intense aerobic workouts longer than 90 minutes with less than 24 hours of recovery
• Intense resistance training
This information was brought to you by OC Nutrition, your trusted source for health & nutrition advice. OC Nutrition offers nutrition counseling services for Triathica. If you have any questions or would like to schedule an appointment, please contact:
Kristy L. Richardson, MS, MPH, RD, CSSD, CHES
Registered Dietitian & Exercise Physiologist
(949) 933-6788
kristy@ocnutrition.com
www.ocnutrition.com