Ron Saetermoe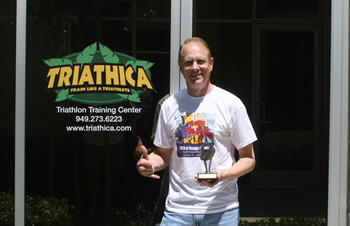 Sadly, we didn't make our new member objective so Jarrett could go to Kona, but we did enroll a bunch of new members, and for that we are extremely grateful.
To our new members, here's what I think you'll find. All of the staff members here at Triathica are very friendly and eager to help you. We understand that you have your own unique objectives and we'll do everything in our power to help you reach them.
Some of the equipment can be a bit intimidating so don't hesitate to ask questions. It takes several attempts with the CompuTrainer to get it right and be sure to use the USB stick on some of your CycleOps sessions so you can file these as marker sets (see the last newsletter).
You'll find the Endless Pool easy to use but a bit hard to get used to. You must stay right in the middle of the stream or it will push you sideways. Once you get used to it I think you'll find it really makes for a great workout. No flip turns needed.
And probably the biggest thing you'll notice is the help you'll get from Jarrett and myself when you're here. We discussed many times before opening, how we really want people to use the facility. The large gyms DEPEND on passive members to break-even. For example, the average 24 Hour Fitness has 8,000 members. Can you imagine if all 8,000 showed up at one time? Our numbers are much lower, but we want athletes that come here often.
You'll also find Jarrett and myself eager to help you. We love discussing your upcoming races and strategy. While we do offer personal training for a fee our guidance and advice is free so we invite you to ask us what's on your mind.
Thank you very much for your membership! We hope to see you here often!
Cheers!