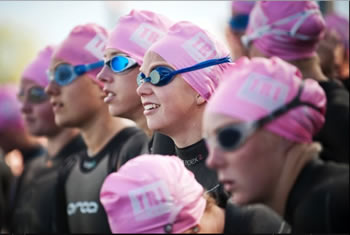 Your "A" race is your most important race of your entire triathlon season. There is a bit of a problem with this theory, however.
For example, when I designed my 2010 season last year my "A" race was Ironman Arizona. My plan was to train hard until then and lay it all on the line for that race to try to qualify for the Ironman World Championships in 2011. So far, so good.
My plan needed to be modified when I raced well at Ironman California 70.3. Now all of a sudden I needed a good race at Ironman Hawaii 70.3 to qualify for the Ironman World Championships in 2010! Therefore, my "A" race now was Ironman Hawaii 70.3.
Now that I've qualified my NEW "A" race is the Ironman World Championships so I'm training hard for that. BUT . . . I still have Ironman Arizona in November!
So I started out with one "A" race and all of a sudden I've got three! Can you really be effective with three full/half Ironman races in one season? I'm not sure but I'm about to find out.
There are many factors that may impact your season and the importance of the races you do. If you're building for a big race such as the world sprint championships it's obvious that will be your "A" race.
Personally I believe it's important to have more than one "A" race in a season. The problem with only having one "A" race is the pressure you'll put yourself under. You're going to train so hard that you may actually over-train and not have a good race. You may not feel well on that one day and not have a good race. Or, you may have a mechanical problem. There's just too much riding on it.
If you race primarily sprint and Olympic distance races you can have several "A" races, perhaps as many as four to six. If you do mostly half and full Ironman races I think you can have two to three. This helps keep the pressure off and I think actually make you race better.
By all means, classify your races but consider having more than just one "A" race per season.
Cheers!
Ron Saetermoe