Take The Guesswork Out Of Your Training With The Best Cycling Interval Workouts From Triathica!
It is as easy as...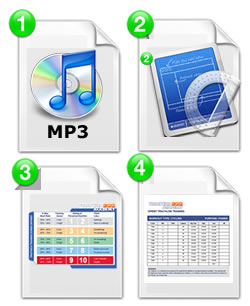 Download Triathica Academy interval workouts onto your iPod or MP3 player, put on your headphones, get on your stationary bike or indoor trainer and work your legs to the best cycling workouts available!
What Do You Get With Your Download?
Each workout includes,
1. mp3 file of the 60 min. audio workout for your iPod or Mp3 player,
2. pdf file of the training zone assesment protocol,
3. pdf file of the Rating of Perceived Exertion Chart,
4. pdf file of the workout, so you can follow up along with the audio workout.
You'll receive a real challenge and motivation from your own personal trainer - Ron Saetermoe! Ron will take the guesswork out of your workouts and make you push yourself to higher limits.
Available Cycling/Spinning Workouts:
The Triathica Academy offers four different workouts, speed, power, endurance and recovery. You should be incorporating all four types of workouts into your training plan for swimming, cycling and running.
60 minutes of high intensity spinning featuring 00:30 to 3:00 min intervals at (and greater than) your race cadence and pace. This workout is absolutely exhilarating!
Speed Up! is designed to help you improve your cycling speed in the flats. It will also help you get to an effective cadence in your cycling and is good for all race distances including Ironman. This is an interval workout, which includes periods of test and rest. That means, you will have a moderate to very hard effort followed by a period of rest. Hard efforts will include cadences up to 120.
Cycling Power Vol. 1 is a 60-minute spin workout designed to help build your leg strength to climb hills and power through the wind. This audio workout will lead you through a series of intervals that will push your ability to generate power on the bike by continuously varying cadence, power (watts), and interval duration.
Cycling Endurance Vol. 1 is an endurance workout that will help you maintain your race pace without overloading. Anyone can push the pace for a short period of time but can you hold it? It will help you push a bigger gear for longer periods of time.
Cycling Recovery Vol. 1 is a workout designed to help you recover from your tough training days. Too many athletes don't take their recovery seriously enough an end up getting burned out or injured. It provides an "active recovery" workout to help you heal your muscles while maintaining fitness.
Wait...
Get the Ultimate Package and save 25%!
86% of our customers get the Ultimate Cycling Package!
Proven...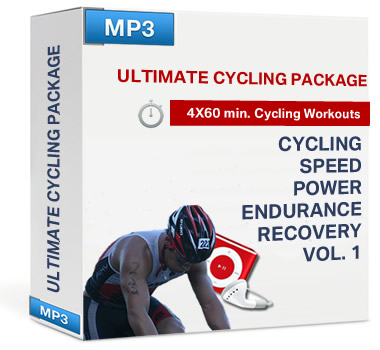 After years of research and testing, we have created the most comprehensive interval cycling training system: The "Ultimate Cycling Package"... It includes all four of our workouts, speed, power, endurance and recovery.
It will allow you to get in much better shape, faster, stronger, become leaner, and injury free by mixing it up and incorporating speed, power, endurance and recovery interval workouts to your training!

Download The Ultimate Cycling Package
For ONLY $39.99 $29.99 Now!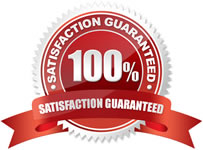 Please Keep In Mind

We will tell you which training zone you should be in so you will know exactly how hard you should be pushing. Don't know your personal training zones? No problem. You will receive a perceived exertion chart with your purchase and you will be able to download the training zones test to establish your own training zones as well.
Knowing your training zones is valuable for making sure you are training at the appropriate intensity every time. Don't waste time training in too low of a zone, or burn yourself out too soon by training in too high a zone. Test your heart rate zones before you do another workout. You can use this same test as a marker set to track your progress as you become stronger. Retest every few weeks and adjust your zones accordingly.
This is something you can't get at your standard spin class. Spinning or running on the treadmill just for the sake of spinning or running might be fun and make you sweat, but it won't do as much for increasing performance once you get past a certain level of fitness.
Stay tuned for more training MP3s and DVDs from Triathica as we continue to develop the Triathica Academy series. We are dedicated to enabling everyone to reach their athletic, triathlon and multisport goals. Let us help you reach your goals.

Feedback
Your feedback is important to us. We invite you to help us improve our performance by providing ideas for advancing our interval training workouts and online triathlon training program. Please send your comments to support[at]triathica.com
Thank you, Ron, for sharing your expertise on the running/biking workouts. I've been trying to get my game back after foot surgery in July and your workouts have been a Godsend! I truthfully, probably wouldn't push myself as hard as you push us, so I appreciate the extra motivation. Your interval workouts make a ton of sense and I am beginning to see the payoff. Your coaching helps prevent me from overtraining.
-Patty T., North Carolina
I've always been one to push myself. But recently I started losing confidence because of not seeing any improvement. It got harder motivating myself, I was about to loose my passion for sports. I have recently found these High Intensity Interval Training Workouts through my friend's recommendation. The more I incorporate these workouts to my training, the more driven I became and the more confidence I gained. In a nut shell I couldn't be happier with the results of the workouts and am glad I had downloaded them. Also I want to give a special thanks to Julie for recommending these workouts.
-Lynne H., Virginia Beach, VA